Mission, vision and values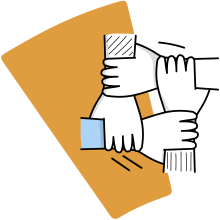 Mission, vision and values
Mission
Support-Girona is an entity that provides global and individual support to people – of any age and with any type of disability – with whom it has a legal bond to promote social inclusion and human rights.
Its mission is to assist persons with psychosocial, intellectual, or age-related disabilities, among others, to contribute towards an inclusive environment that allows them to exercise their rights. By applying the principles outlined in the United Nations Convention on the Rights of Persons with Disabilities (CRPD) and aligning itself with the goals of United Nations' 2030 Agenda for Sustainable Development, Support-Girona works alongside a network of organisations, specialists, and people from the environment of the assisted individuals in a personalised manner so as to place the person being assisted at the centre and provide them with the support they require. Moreover, guided by the principle of respect and with the intention of supporting the decision-making process of the people being assisted, it facilitates support mechanisms designated by judicial appointment, notarial act, or self-consent.
Vision
Support-Girona aims to:
Support any disabled and aged person in need of it by transforming the care model while respecting the autonomy of the people.
Generate debates around the social policies that affect persons with disabilities while looking for models, alternatives, and resources at a global level that increase their autonomy and quality of life.
Increase professional knowledge by creating strategic alliances and encouraging networking.
Comply with the Sustainable Development Goals (SDGs) of the United Nations while structuring its action and projects in order to guide them towards a tangible and measurable social and environmental impact.
Values
In order to carry out our goals and maintain our commitment to society, we at Support-Girona are committed to the social model of disability as well as networking and cross-cutting work.
Our work targets individuals by offering close services that are:
Purposeful
Sustained
Individual
Global and flexible
Individual-led
From a gendered perspective
Oriented towards community inclusion
Confidential and transparent